We restore and clean water damage, fire damage, smoke damage, mold, sewage, trauma,
odors and storm damage in Wausau WI and Central Wisconsin.
History of ServiceMaster
Founded as a moth-proofing company in 1929 by Marion E. Wade, a former minor league baseball player, ServiceMaster had its beginnings in Chicago where Wade worked out of his home. Wade had a strong personal faith and a desire to honor God in all he did. Translating this into the marketplace, he viewed each individual employee and customer as being made in God's image - worthy of dignity and respect. His successors, Ken Hansen and Ken Wessner, also shared this view. Today the company has evolved to more than 5000 company-owned and franchise locations worldwide. These three leaders shaped what became our company objectives: To Honor God in All We Do; To Help People Develop; To Excel with Customers; and To Grow Profitably.
The ServiceMaster Commitment includes our foundational commitment to Honor God in all we do, our eight values and three core objectives to Help People Develop, Excel With Customers and Grow Profitably.
Our Corporate Objectives
Marion E. Wade, founder of ServiceMaster Clean, had a very strong system of moral and ethical principles that have created the foundation for our corporate objectives:
To Honor God in all we do- Faithful adherence to a strong moral and ethical ideal should guide all aspects of a company's operation, as well as one's personal life. It is not an expression of a particular religious belief, or a basis for exclusion. Rather, it is a mandate for inclusion, and a constant reminder for us to do the right thing in the right way. We encourage everyone in our ServiceMaster family to live by principles of honesty, fairness and diligence. As Marion E. Wade once said, "If you don't live it, you don't believe it."
To Help People Develop- As a leader in the business community, it is our responsibility to help people develop personally, as well as professionally. To this end, we provide our employees with ongoing opportunities to learn new skills and advance within our company. Expectations are clearly expressed and merit is rewarded through our system of incentives and awards. By motivating our people to fulfill their own potential and by treating them with respect, we develop their confidence and their ability to contribute to the community, as well as enhancing the quality of their professional performance.
To Excel With Customers- Only by providing service excellence can we achieve our goals. If we remain true to our principles, we cannot be satisfied with "good enough." We must always strive to provide our clients the highest in quality and value.
To Grow Profitably- It is our responsibility to remain a stable means of support for our employees. By growing profitably, we can set a positive example for the rest of the business community—that profitability is the by-product of hard work and ethical business practices.
History of ServiceMaster Restoration Professionals
ServiceMaster Restoration Professionals got its start back in November of 2009. Much like Marion Wade's vision in 1929, David St Ores and wife Penny had a similar vision to offer a total disaster restoration company to service the Central Wisconsin Area and ultimately Service the Master in everything they did. With this vision in mind Dave and Penny started the groundwork in the fall of 2002 in their garage for what the company has become today. In 2012 Dave and Penny purchased the property in Wausau at the Rib Mountain exit on I-39/51. Nearly 2450 square feet of the existing building was remodeled for the administrative offices and in 2015 they completed a new expansion of over 13,555 square feet to house their contents cleaning division, the storage of vaults to hold customer's contents, equipment and some of their vehicles. This expansion has been a great addition to fully serving their customers.
From our Ozone Room (Maloder), Soda Blaster (Fire & Mold), Thermal Imaging Camera (Water Damage), Hydroxyl Generator (Maloder), to our 135 gallon Ultrasonic Cleaning Machine we have taken the necessary steps to tackle just about any traumatic event that may occur from homeowners to businesses alike.
Meet Our Team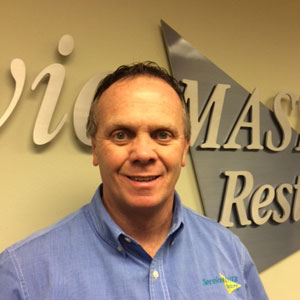 Dave
Dave has been an entrepreneur most of his life and has found his niche in the restoration industry. Dave is proud to be an owner of several ServiceMaster franchises serving 10 counties and beyond. The ServiceMaster franchise name was actually developed from "Serving the Master", Jesus Christ. Dave created the company mission statement to be, "Honor God In All We Do". ServiceMaster strives to "Excel With Customers" and "Develop People". His greatest reward is helping people during a tragic event, whether it's a fire or losing their personal possessions due to water damage, ServiceMaster wants to be there to help. In Dave's free time he enjoys spending time with his family, many outdoor activities and mission work.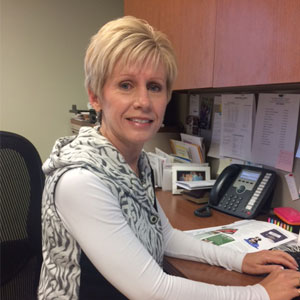 Penny
Alongside of Dave, you will find Penny. Penny is proud to be a part of the ServiceMaster family and all that ServiceMaster stands for. Helping people during an unfortunate event is what makes going to work rewarding. Penny says they strive to have a "family environment" at ServiceMaster, watching employees grow and develop skills is a blessing. You will find Penny in the Wausau office with many responsibilities. When not working, Penny enjoys time with her family and home projects.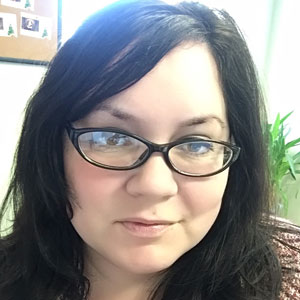 Samantha
After working for ServiceMaster in the Minneapolis market for 10+ years, Samantha came to the Wausau area and feels right at home. Samantha started with ServiceMaster as an assistant and excelled in every position she was placed in. Her last responsibility in the Minneapolis office was to oversee operations. At the Wausau office Samantha takes her position as General Manager seriously. She is building solid relationships with homeowners and adjusters, while gaining traction in the 10 counties their franchise owns. Samantha finds it very rewarding to help people in their time of desperate need and she enjoys the family environment at the Wausau office. Samantha and her husband are looking forward to meeting the people in Wausau and the surrounding communities.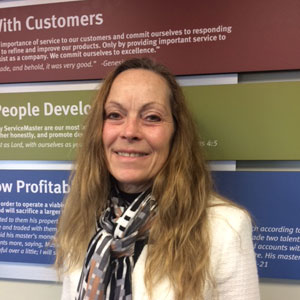 Annette
Annette enjoys the different hats she is asked to wear at ServiceMaster. From working in the field and assisting homeowners in their time of need, to supporting the administration in the office, Annette has been a valuable employee in the 10 years she has been with ServiceMaster. In the disaster business employees have to work together as a team. We have employees who really care about making ServiceMaster the best restoration company in the area. Outside of the job you will find her involved in watching her children's football, volleyball and baseball games and relishing the time spent with her two grandchildren.