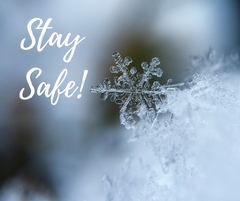 It doesn't look like winter is giving up just yet here in Central Wisconsin. Make sure your emergency kits are still accessible before the snow hits tonight and tomorrow, and if you have not created them yet, here's a list of what to include for you home, car, and at work.
Being Prepared at Home
Make sure your family is prepared for winter storms with an emergency kit at home that includes:
Flashlights and extra batteries
Non-perishable food and water
Blankets
Heating/fuel equipment incase you lose your normal source.
Portable chargers
Salt to melt ice and sand to improve traction in your driveway if you need to leave.
Shovels or a snow blower
Multipurpose tool
Battery-operated/crank radio
Extra food for your pets.
Moist towelettes
Games or other activities for your kids.
Emergency Kit for the Car
Even if school is canceled, many of us still have to make it to work and drop the kids off at daycare. Make sure you have an emergency kit in your car in the event that you get in an accident or slide off the road.
Flashlight and batteries
Blankets
Emergency contact information
First Aid Kit
Non-perishable food and water
Medications
Snow shovel and ice scraper
Multipurpose tool
Jumper Cables
Battery-operated/crank radio
Gloves and Boots
Portable cell phone charger
Being Prepared at the Office
Sometimes snow falls faster than you're anticipating, or you get caught up in a project at work and before you know it, it's too dangerous to travel home from work. Keep an emergency kit handy just in case you are snowed in at your office.
Non-perishable food and water
An extra set of clothes
Personal hygiene items
Medications
Multipurpose tool
Flashlights and batteries
Blanket/pillow
Battery-operated/crank radio
Be prepared and travel safely if you need to go out during a winter storm to avoid the all too common occurrence of getting stuck. You can find even more tips about being prepared for a disaster or emergency at ready.gov or redcross.org, and as always, you ServiceMaster Restoration Professionals is standing by 24/7/365 to help in case of a disaster at home or the office. Call us at 715-842-2488.