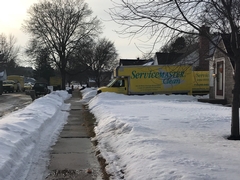 In the early morning hours of February 27th a water main broke in Eau Claire, causing sewage water to back up into many homes on the west side of town. Our ServiceMaster team jumped into action right away and is currently assisting 9 homeowners affected by the water main break.
Some homes had up to 10 inches of water in the basement, so we got to work quickly, extracting sewage, removing anything damaged by the backup, and beginning the drying process. Our team is expecting to work in these homes until the end of next week.
Sewage backups into homes are a major safety concern due to the amount of bacteria and disease-causing pathogens it contains, which is why it is extremely important to call in the experts to clean up the damage.
If you discover a sewer backup in your home, check your toilets, sinks, and waste pipes for blockages and avoid use until the blockage has been removed. For your safety, never enter a space with standing water if your power is on – this is extremely dangerous. Call a plumber if necessary, and then give ServiceMaster Restoration Professionals a call at 715-842-2488 to come clean up the damage.