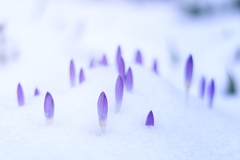 After the crazy snowfall over the weekend, it may feel like Spring is never going to make an appearance in Wisconsin, but it will be here before we know it! With the warmer temperatures, we're going to start seeing more rainfall and the snow will melt, which means that there will be a log of excess water around your home and business. You can follow the steps below from ServiceMaster Restore® to make sure your home and business are prepared for Spring when it finally decides to show up.
Gutters/Roof
It's a good practice to check your gutters when the seasons change to make sure there isn't anything blocking them including, branches, leaves, and ice. Make sure the gutter system drains properly and does not make a puddle around your foundation. Water should easily drain away from your home/business.
Examining your roof is important as well. Check for any loose or missing shingles. If you find any, make sure to check for water damage inside your attic and your ceilings to make sure nothing has leaked in. Inspect any exterior vents and make sure there is nothing that could cause them to become clogged (moss, for example).
Heating, Ventilation & Air Conditioning (HVAC) and Pipes
Your air filters should be changed during this time as well. Check your ducts and vents to ensuer that they are clean and functioning properly. If you have any problems checking your ductwork, give ServiceMaster Restoration Professionals a call to do it for you. Overtime, dust and debris can settle in your ductwork, which can lead to blockages that don't allow your HVAC system to run properly. Clean ducts help improve the air quality of your home/business and save energy as well. Change your air filters, and check the cleanliness and functionality of your ducts, vents and entire HVAC system. Ductwork can be difficult to check, so you may want to hire professionals to inspect or clean your air ducts.
If you wrapped up any pipes over the winter, check for any cracks or damage as you uncover them. Check for any evidence of a water leak in the surrounding areas and make sure your faucets are working properly.
Windows
Windows should also be looked over to make sure there are no tears in the screens or cracks in the class. Examine the seals along the trim as well to make sure air and water are unable to flow through. Window wells should be checked to make sure water does not get into your basement. When water is able to get in through improper seals around windows, mold can begin to grow and window frames will start to rot.
Foundation
Examine your foundation for cracks and make sure to seal any that you find.
Yard
Finally, take a look at your yard. Turn on the outdoor spigots (and sprinkler system if you have it). Inspect your deck or patio for rotting wood or cracks.
If you do find evidence of water damage as your are inspecting your home, make sure to take pictures right away and get in touch with your insurance agent. As soon as you are done speaking with them, give ServiceMaster Restoration Professionals a call. We're experts in water damage and stand ready to help get your home/business back to normal as quickly as possible.