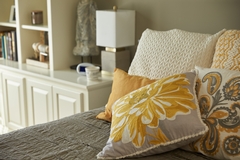 Although it may not feel like it yet, spring is here in Wisconsin and it's the perfect time to deep clean your house! Cleaning can feel like a daunting task—especially the whole house, so here at ServiceMaster Restoration Professionals, we've put together a list to help you out.
Open the windows, put on your favorite music, and get started!
KITCHEN, LAUNDRY ROOM, AND BATHROOMS
Due to excess moisture, bacteria, germs, and mold love to make these rooms their home.
Change filters in your refrigerator and your hood vent. Don't forget your furnace!
Organize cupboards in your kitchen and bathroom. You'll be surprised by how much you are able to get rid of!
Clean appliances including your microwave, refrigerator, dishwasher, and oven. Your washer and dryer could probably use some TLC too.
Disinfect hard surfaces like the sinks and countertops in the kitchen and bathroom, then deep clean the toilet, shower, and tub.
Clean fabrics like your shower curtain, bathroom mats, rugs, curtains, and extra blankets. Save energy by hanging things to dry outside.
LIVING AND DINING ROOMS
Your family and friends spend a lot of time in these two rooms, so even though they receive regular cleaning, a deep clean will make them an even more enjoyable space.
Declutter! Toys that haven't been touched in months, old movies, books? Donate any items that are no longer used or wanted.
Dust thoroughly. You may dust regularly, but do you always get the ceiling fan, picture frames, baseboards, lamp shades, under electronics, and other hard to reach places?
Clean upholstery, carpets, and floors. Sofas, pillows, and chairs can gather a lot of dust, food crumbs, and stains. Try rearranging the room to get behind and under spots you usually miss and give your room a new look!
Give ServiceMaster Restoration Professionals a call for the deepest clean.
BEDROOMS
Our bedrooms become our place to relax and rest—something that's difficult to do in a dirty and cluttered environment.
Start with your bed. It feels amazing to crawl into a bed with clean sheets and pillowcases. Take the next step for a deeper clean and wash your mattress, mattress pad, and pillows.
Declutter! Just like you did in the living room, create a donation pile. Sort through your clothes, shoes, accessories. If you haven't worn it in a while, it doesn't fit, or is worn out—get rid of it!
So what do you think? Cleaning the house hopefully doesn't seem quite as daunting. Tackle one or two areas a day and you'll be done in no time!
Happy cleaning!