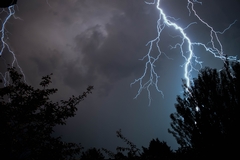 Today marks the first day of Wisconsin's Tornado and Severe Weather Awareness Week. While Wisconsin is not necessarily known as a state with severe weather like EF5 tornados or hurricanes, we do still experience strong thunderstorms that may generate hurricane-force winds, hail, and smaller tornados with peak season occurring May-August.
In 2017, the National Weather Service recorded 23 tornado touchdowns throughout the state, which is also the state's annual average. Ten of these tornados took place on June 14th in the east-central counties of Brown, Outagamie, Shawano, Winnebago, and Waushara. The most severe tornado in 2017, an EF3, touched down on May 16 and traveled 83 miles across four counties.
Learn more about myths surrounding tornados and thunderstorms from ServiceMaster Restore and make sure you know where to seek shelter at home, school, or work in the event of severe weather. Have an emergency plan in place with your family in the event that the power goes out, including non-perishable food, flashlights/batteries, and a generator. You can find a complete emergency kit list that is good year-round, here.
Statewide tornado drills are scheduled for Thursday, April 12—a mock tornado watch at 1:00 p.m. and mock tornado warnings at 1:45 p.m. and 6:45 p.m. Any changes will be announced by local media and at http://readywisconsin.wi.gov.
In the event that your home or business is damaged by a severe storm, give ServiceMaster Restoration Professionals a call! We are ready to serve you and offer emergency services like emergency roof tarping, board ups, and tree/debris removal.