One of many flooded streets in Duluth, Mn.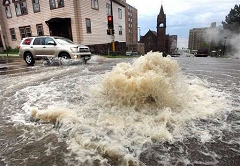 ServiceMaster Restoration Professionals of Wausau was called today by the ServiceMaster franchise in Duluth, Mn to assist in the flooding that occurred yesterday.

As of this morning the Duluth ServiceMaster franchise received 130 phone calls from homeowners and business owners with damage from the torrential downpours.

The floods fed by a steady torrential downpour forced many road closures in northeastern Minnesota on Wednesday. People living near the St. Louis River were urged by authorities to evacuate their homes in fear of being caught in the rising water.
Interstate 35 and downtown tunnels in Duluth were closed and police recommended emergency travel only, warning that numerous sinkholes and washouts were making travel dangerous.

Each ServiceMaster franchise belongs to a worldwide network of franchises that when a storm hits much like the one in Duluth, Mn that you can call on other franchises to assist in helping those in a time of need.

We dispatched 2 crews this afternoon who are on their way to assist those in Duluth and surrounding communities with the flooding.