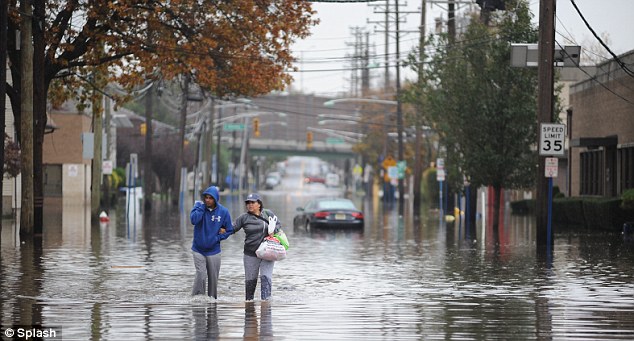 Hudson Street in Hackensack, New Jersey.
ServiceMaster Crews from the Central Wisconsin location continue to assist Hurricane Sandy victims.
As some of you know, our ServiceMaster franchise that is located in Stratford sent a crew of 8 members along with approximately 200 air movers and 40 dehumidifiers to New Jersey to assist those in need.
Its been roughly over 1 week since our crews arrived in New Jersey. Our guys have been putting in 14 hours days without a day off.
From day 1 most of our crew has been working on a 130,000 square foot Wallpaper Manufacturing facility located in South Hackensack that had over 2 feet of water, mud, debris, etc. Along with working on this commercial loss we have also helped out other businesses and families in need. The extent of damage is devastating and will take months to clean up.
Probably the most interesting or should I say scariest part is the gas shortage. Nate Finstad, our General Manger was out there for the week and came back yesterday. He shared with our Team Members back home and also in a Newspaper Interview that was in the Wausau Daily Herald earlier this week the situation with the gas. Vehicles are waiting in 3 mile lines to get gas. If your License Plate ends in a odd number you can purchase gas on odd days, if it ends in an even number on even days. Sounds logical, but when your dealing with one of the most heavily populated areas in the entire United States you have chaos. After waiting in line for hours, when you finally get your turn you can only purchase $30 worth of gas. And if the pump is out of gas, you're out of luck.
Our crew is planning to stay another 2 weeks as the process of cleaning up is time consuming based off the extent and magnitude of damage.
We ask that you keep our crew and all volunteers along with the people of the East Coast in your prayers.