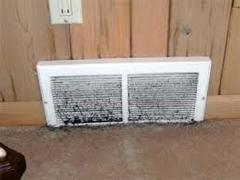 The majority of the furnaces found in today's home are natural gas and propane powered units. However a considerable number of home's are still heated using fuel oil both in urban and outlying rural areas. While the number of fuel oil furnaces is in decline they are still present in significant numbers
Fuel Oil Furnaces are unique in that the produce the most heat (most BTU's) of any heating options on the market. However Fuel Oil Furnaces do need to be routinely maintained in order to avoid malfunctions that lead to what is known as a "Puff back" Puff backs or backfires are specific to fuel oil furnaces that are not regularly maintained and occur when unburnt fuel oil collects overtime within the furnace and then ignites. The subsequent explosion or "Puff back" creates excessive pressures which force fuel oil soot through both the supply and return lines of the air ducts covering the inside of the home and all of the contents in fuel oil.
The fuel oil residue is not able to cleaned by a home owner and requires the involvement of a Restoration Company such as ServiceMaster.
A typical puff back can run upwards of $20,000 to return a home to pre loss conditions as the following services need to be performed:
• All exposed external surfaces need to be manually cleaned including ceilings, walls, doors, windows, cabinets, furniture.
• Repainting of home
• Replacement of carpets, furniture and window treatments maybe necessary as well
Puff backs are preventable when the home owner has their system maintained by a licensed HVAC Contractor
I spoke to Jim Hurtis of Hurtis Heating & Air – Marathon WI and he recommended the following to properly maintain a fuel oil heating system and minimize the risk of a puff back:
1. Schedule an Annual Safety and Efficiency tuneup (Hurtis Heating & Air Cost - $150)
2. Maintain a full oil tank especially during the summer months to prevent condensation
3. Call Your HVAC Contractor if the furnace begins making an unusual noises or fuel oil odors are present.
To Schedule and appointment with Hurtis Heating & Air call 715-849-2818